12/04/14 01:14PM

Our brand new review of Lacuna Coil's newest album "Broken Crown Halo" made by our lovely Sophie is out!
Lacuna Coil formed in Milan in 1994, originally as Sleep Of Right and then as Ethereal, before finally settling with the name they have today. After signing to Century Media, they followed up a self-titled EP with their debut album In A Reverie. After Unleashed Memories in 2001, the band's breakthrough album was Comalies in 2002, firmly establishing them as one of the biggest gothic/alt metal bands. They then had success with Karmacode, Shallow Life and finally Dark Adrenaline. Many massive tours, TV appearances and magazine covers later, the Italian superstars have returned to our stereos with Broken Crown Halo.
Line-up:
Cristina Scabbia – Lead Vocals
Andrea Ferro – Lead Vocals
Cristiano Migliore – Guitars
Maus – Guitars
Marco Coti-Zelati – Bass
Criz – Drums
Tracklist: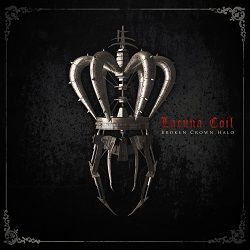 Nothing Stands In Our Way
Zombies
Hostage To The Light
Victims
Die & Rise
I Forgive (But I Won't Forget Your Name)
Cybersleep
Infection
I Burn in You
In The End I Feel Alive
One Cold Day
Nothing Stands In Our Way is the explosive start to the album, as well as being the lead single, and it seems sure to become an anthem for many fans. This is followed by Zombies – themes of horror and the paranormal are front and centre here, often being used as a metaphor for the human experience. Hostage To The Light uses imagery of angels and demons, a beautiful and uplifting track. Victims is also strong, though it is more grounded in a dystopian reality. It's notable for the excellent shouted refrain from Cristina Scabbia; "People told me I was weak; I told them I'll never quit, I will never quit!"
Die & Rise was released as a radio single in the US and is a pretty catchy vampire-themed anthem (you get the feeling Andrea Ferro was having fun with his performance of this one) with the return of some Italian lyrics. This is followed by another song that was premiered online before release: I Forgive (But I Won't Forget Your Name). This is an excellent track, one that will resonate with anyone who has been wronged and wished for a good dose of karma.
Cybersleep is an ode to the movie Inception, which has a slightly wonky electronic start but overcomes this to become more like a classic LC track. Then we head to much darker places for Infection, a slow and heavy song which is one of the band's most tormented pieces to date. I Burn In You is a little lighter, offering optimism but still tinged with sadness ("We'll see it through […] But we'll never be the same as we were before"). The penultimate track is In The End I Feel Alive, a little bit of a weak link but nevertheless of the same high quality as the rest of the album.
Keeping up LC's tradition of great closing songs, Broken Crown Halo ends with One Cold Day, the longest track and a beautiful and moving tribute to their former member Claudio Leo, who sadly passed away in 2013.
Some fans may have been expecting a big change on this album given that a lot of the promo material promised a more cinematic and symphonic style. In a way this is true – the recurring supernatural theme ties everything together well and some of the tracks make use of strings and orchestral backing. But don't expect Lacuna Coil to have turned into Nightwish or Epica; this is still very much the same style that they have always had, albeit a more modern and updated version. So those anticipating something drastically different may be disappointed.
However, those who have always followed Lacuna Coil will know that they are a band that are totally dedicated to their fans and their music, and the passion shines through in every song. Their words may not be life-changing, but they may just be life-saving. For fans of LC, this album is a must-buy.
Highlights: I Forgive (But I Won't Forget Your Name), Infection, Nothing Stands In Our Way, Victims
8/10
Links:
Author: Sophie Cleverly-Edwards
Read the full story