19/04/14 03:48PM

Stream Of Passion are a Dutch progressive gothic metal band with symphonic metal elements, originally founded in 2005 by guitarist Arjen Anthony Lucassen and Mexican singer and violinist Marcela Bovio. The band have so far released four studio albums, the last one being Darker Days released via Napalm Records back in 2011. After splitting with their record label in 2012 the band is back with their new fan-funded release A War Of Our Own.
Line-up:
Marcela Bovio – Lead vocals, violin
Eric Hazebroek – Guitar
Stephan Schultz – Guitar
Johan van Stratum – Bass
Jeffrey Revet – Keyboards, synthesizers, piano
Martijn Peters – Drums
Tracklist: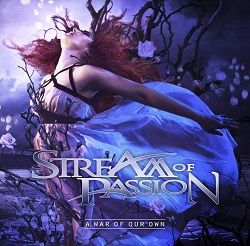 Monster
A War Of Our Own
The Curse
Autophobia
Burning Star
For You
Exile
Delirio
Earthquake
Secrets
Don't Let Go
Out Of The Darkness
The Distance Between Us (Bonus Track)
Having been a fan of the band for a few years now I was quite excited to here what this release would bring and once again I was overjoyed at the band's results. The album opens with Monster which is frankly a beast of a track, opening with an stimulating violin melody before ploughing straight into muddy guitars. One thing I have always adored about Stream Of Passion is the heavy crunching riffs couple with the melodies of the violin and I'm so, so glad to see that it is still in full force. The rapid harmonies that bring the song to a climax around the four minute mark give me chills. Next up is the album's name sake A War Of Our Own, while a brilliant track I feel like it's something of a warm up piece for the next song: The Curse – which was released previously as a lyric video.
The Curse opens with crunching riffs before diving into Marcela's softer vocals, drawing you into the song right before it throw us into a beautiful and catchy chorus. Following on beautifully is Autophobia (meaning the fear of oneself being isolated, or the fear of general isolation). The song has a gorgeous piano melody which bridges the more melodic and heavy parts of the song quite well. Marcela's voice is very free flowing and passionately driven.
The album takes a change in pace with For You which is a slow, yet creeping piano based song. It's minimalistic, yet enjoyable but not really much of a stand out track. However, it is a nice kind of 'start up' for the kick into the next track Exile which is sung for the most part in Marcela's mother tongue. The Spanish tones flow over the song, and although I'm not a speaker of the language I adore the passion and emotion that just radiates from Marcela's voice. Another Spanish-vocal song Delirio follows on, with some nu-metalesque riffs going on which some may label as outdated but I feel certainly fits the song with a modern symphonic twist of the violin melody laced with it.
Switching back to English led lyrics we have Earthquake and Secrets, which some may have seen live clips of on youtube. While I was excited to hear a studio versions of them at first, in amongst the rest of the album they feel a bit 'filler' rather than killer. There are however, some enchanting high notes in Earthquake there flowing over the violin which redeem the song in my eyes. Next up Don't Let Go reminds me a little of some tracks from the band's second album The Flame Within in its style. The band mix it up a little with a lovely little guitar solo and some spoken parts.
The nu-metalesque elements make a come back on the second to last track Out Of The Darkness, for those with a regular edition of the album this would be an amazing closing track, where the band bring everything together, but wait – we're not done yet – so the CD yelps with the opening notes of The Distance Between Us (the bonus track on the digipack). I was kind of hoping that the album might close on a ballad, as that's what the album seems to be lacking in, but it would appear that the band have their balls out and are avoiding that old female fronted metal cliché with instead a mid tempo melodic tune to close.
While A War Of Our Own is an amazing album, I feel like it could have been mixed better, as in places the music almost drowns out Marcela's gorgeous voice. The album feels like a bit of a continuation of Darker Days – which isn't necessarily a bad thing. That aside, A War Of Our Own is well produced and shows the band doing what the do best, holding nothing back. The band show they can not be pinholed to one genre entirely and continue to evolve.
9/10
Highlights: The Curse, Autophobia, Delirio
Links:
Author: Tayla Dickinson
Read the full story